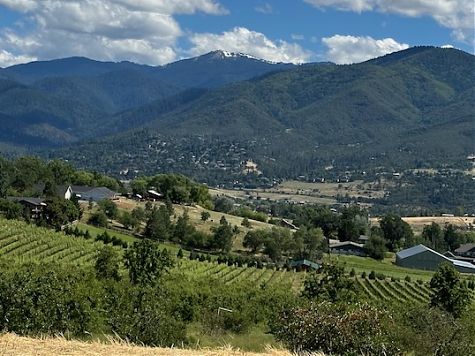 Anna and I spent Father's Day doing a little local exploring. After a quick brunch at Skout we made our way to a little, off-the-beaten-path distillery. Pioneer Whisky is a small operation in Talent. As we were driving up on the dirt road, looking for the place, we saw a guy mowing a pasture. He watched us as we made our way to the small green building that houses the still. As I parked, he stopped mowing and hopped off his tractor and started walking towards the building. Smiling, he asked if I was interested in tasting some whisky. I told him I was and he ushered me and Anna into his small distillery, tasting room, and retail store. Introducing himself as Alex, he assured us that he didn't mind postponing his mowing chore for a while to talk whisky. Of the three he makes, we really enjoyed the Islay style with peated malt from Scotland. After a short chat, we bought a bottle, thanked Alex and headed out.
Our second stop was the Rogue Creamery in Central Point to pick up some delicious blue cheese. The creamery's Rogue River Blue was the grand champion of the 2019/20 World Cheese Awards in Bergamo, Italy. There is a window where you can watch them make cheese, but we've visited a couple of times but we never manage to catch them in the act. They will happily offer you tastes of their various cheeses, and if you really want a treat, you can order a grilled cheese sandwich made with a combination of their cheddar and blue cheeses. Since we had eaten recently we skipped the sandwich this time and just picked a few cheeses to take home. (Having thought ahead, we had a cooler bag with ice packs in the car to keep our cheese safe for the afternoon.)
The last stop on our excursion was Long Walk Vineyard, back in Ashland. As we walked into their tasting house we saw the familiar face of Paul Briggs, the host of the OSF Green Shows. In addition to his work for the Shakespeare Festival, Paul pours wine at Long Walk. He also gave us a little history lesson about the property. The original orchard was planted by the Wagner Family around 1900, and there are still around 30 varieties of fruit, including the grapes that go into the winery's wines. The wines were tasty, and it was fun to chat with Paul. He's not only hosting the green show this coming Friday (June 23) — he's also the performer, playing the sitar. Look for us there!
Posted 19 June 2023 by Mark ·
---